Dairy business
At present, Nobels Group is focusing on expanding dairy business. Having expertise of raising beef cattle over the years, we are now able to produce beef cattle and raw milk at the same time. With a new dairy farm being built, we will operate two large dairy farms.
---
Producing "Raw Milk" and "Beef Cattle" Simultaneously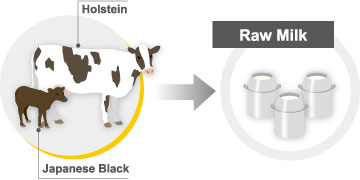 On the dairy business of Nobels Group, along with raw milk, the original method of producing embryo for the pure Japanese Black has been developed. Also, for running the dairy farms effectively, we have combined biogas plant turning waste into electricity. At the same time, we are producing liquid fertilizer for maize to achieve sustainable farming.
An Acquisition Of HACCP For Farms
Nobels Dairy Farm Co., Ltd. actually has acquired a certification of HACCP. From now on, we promise to maintain sanitary controls so that we keep providing quality raw milk with higher value.
Planning To Build A New Dairy Farm
Nobels "Dairy Farm" has been found since 2011. With our experiences in beef cattle, we've successfully grown quickly. Back in 2019, we'd reached 40,000 tons of raw milk. Now, we're aiming 50,000 tons per year. In addition, a new dairy farm will be built in Yamagata Prefecture.